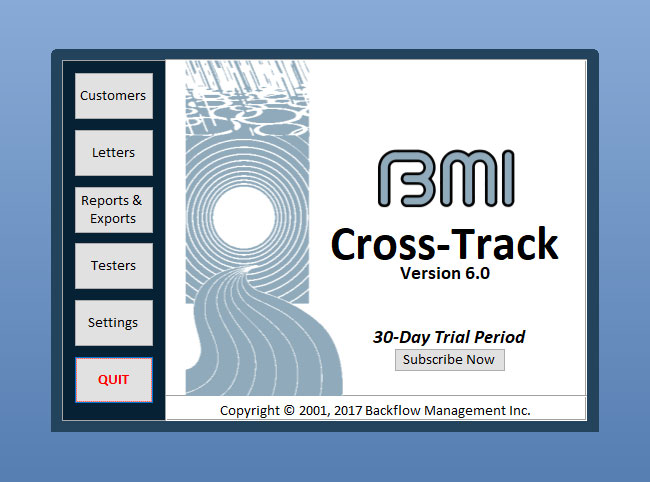 BMI Cross-Track 6 for Water Systems is an easy to use software product that manages your entire backflow testing and cross connection control program. This program comes in all sizes from 25 service connections to an unlimited number of service connections.
Features
NEW Program levels designed for smaller water systems.
NEW Updated look and feel
NEW Improved handling of block ids
The ability to search records by name, account number, assembly serial number or address
Pre-populated Test Report Forms that save you time
Customer notices such as "No Internal Protection" and "Thermal Expansion" educational letters
The ability to easily compile data for Annual Summary Reports
Survey request notices, request to install an assembly and questionnaires
The option to customize letters and add your header, footer, logo and wording!
Plus Free Unlimited Technical Support
Pricing
BMI's Cross-Track Pricing is a one time payment and is based on the number of customer accounts. Call for current pricing.
Already own a previous version of BMI's Cross-Track? Tell us and get special upgrade pricing!
Program Levels
up to 100 accounts
101 to 250 accounts
251 to 500 accounts
501 to 3,000 accounts
Unlimited accounts
BMI Cross-Track for Testers is a great tool to organize your testing business and take it to a more professional level. We listened to active testers and incorporated their ideas with input from our own industry experts. The result is a business management tool that is effective, user-friendly and surprisingly affordable! This program will accommodate an unlimited number of customers and assemblies. It collects information on multiple water systems, employees and/or contractors, company gauges, certifications and much more.
Features
UNLIMITED number of customers!
UNLIMITED number of assemblies!
UNLIMITED free tech support!
Organize customer and assembly information
Generate legible, complete test report forms
Prepare invoices, reports and parts lists
Print customer notices and reminders
Enter and retrieve information for multiple water systems
Maintain employee and contractor information
Track gauge calibration dates and assembly failures
Pricing
Call for Current Pricing